---
Hop on into Sally's for all your Easter Treats!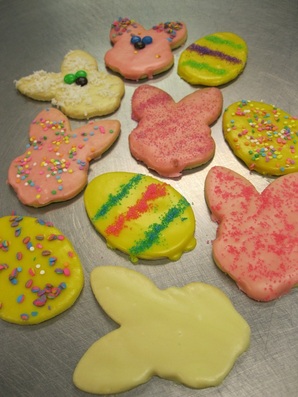 Easter Bunny & Egg XL all-butter cut-out cookies
We've got
Pies
(Banana Cream, Coconut or Chocolate Cream, Key Lime or
Lemon Cream),
Cakes
(Carrot or try our signature Carrot Cheesecake Torte),
Cupcakes,
Breads
(Dill and Soft White) and lots and lots of the cutest,
​yummiest
all-butter cut-out cookies
ever!
We've also got your
ham
~ the same ham we serve every Sunday in the bakery. We sell it to you with the juice included. All you need to do is warm it in your slow cooker. We suggest one pound for every 4-5 sandwiches (6 sandwiches if children are included in your count).
Call or
email
us EARLY to insure placement of your order! You know what we always say, "we will only take as many orders as we can pridefully produce"!
You can print out our menu and order form just below!
Phone: 262-968-1803 (GD) 262-719-3020 (Delf)
Email: SallysSweetShoppe@yahoo.com
SallysSweetShoppeToo@yahoo.com
Facebook us
!
---
You can find our complete Easter 2018 Menu here!
And print our order form here!
NOTE: Sally's will be CLOSED on EASTER SUNDAY (April 1st)
---